4,9
/

5

Rubbish Removal Company provided us with quality waste collection at an affordable cost. We highly recommend this company. They were very...

Daniel Davis

I hate trying to tackle a rubbish removal task. That's why when I heard about BenandJerry and gave them a call, making a booking was a no-brainer.

Lindsay J.

I like how quickly Rubbish Removals Ben and Jerry responded to my enquiry, even offering me a free quote for the garden waste removal I needed. I...

Liberty Wells

Neat, left the place tidy, all at a price I could afford. No hidden fees, no selling of services. Up front, trustworthy, will use Rubbish Removals...

Lester Malik

I will recommend and I will call again! Cleared out my closets, attic and basement, spring cleaning is done! Thank you Ben and Jerry Rubbish...

Alison Lydecker

Ben and Jerry is an upstanding waste clearance company. They were true to the adverts on their website. Needed an old piano moved, and they did it...

Frederick Snyder

Ben and Jerry Rubbish Collection are true experts in handling waste collection!

Sherry

I hired Rubbish Removal Company to help with a large rubbish clearance and was not disappointed! Plus the great discount they gave me sealed the...

Edgar M.

Enjoyed working with BenandJerry so much I am confident I will never have to find another garden waste disposal company. They were so efficient,...

Gail Gorman

Haven't got a bad word to say about Rubbish Removals Ben and Jerry. Easiest rubbish clearance service I've ever used, so happy to help with...

Mike H.
Every single booking matters to us
We've always talk with our customers and ask them what made them decide to hire a rubbish collection team from us. Many said how scared they were of doing the task on their own all wrong if they had no help. Many others said they just wouldn't know where to start and felt very daunted by the prospect. Many more of them then went on to say how surprised and relieved they were with our expert services here at Ben and Jerry. Even those who had used other rubbish collection companies before using us exclaimed how glad they were they came to us.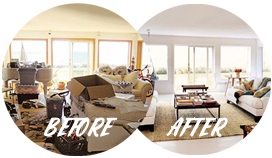 You can read all of these testimonials yourselves on our website and we're proud to say we expect there to be more with every job because every single booking matters to us. Our domestic waste disposal service is our most popular offer and it's extremely easy to see why we are so prominent across the entire London.
Call us now on 020 8746 4455 and discuss what we can do for you with our friendly team.

Another of our previous customers spoke of our ability to provide a personalised, bespoke service that suited his specific needs.

So, whatever your rubbish removal service needs in West London, you can count on us.