Thinking about clearing your house in North London? Worried that finding the best house clearance teams will be a nightmare? We know too well how daunting and overwhelming the prospect of clearing can be for people clearing their house or even office. The anxiety of organising transport, finding enough people to help carry your belongings and wondering if you'll have time to clear it all... it's enough to drive you mad and give up the idea of clearing altogether! That's where Ben and Jerry come in.

Give all this panic, you simply should not worry for the junk collection, too! There's only the need to call us on 020 8746 4455 and book one of our specialised services. Our friendly team of experts will happily recommend which of our professional rubbish removal services is best for your needs.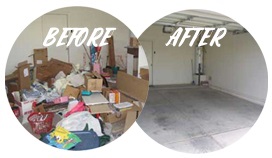 You can hire us to carry out the entire task on your behalf. If you have little idea of how to go about waste disposal, then we strongly suggest you consider hiring a profesional company. You won't have to worry at all as our specialists will make the entire process simple and smooth. Our staff know exactly what they're doing and will ensure your task goes swiftly and safely, wherever you are located within North London.